Innovation & Transformation
Together with Khimji Ramdas
Diversification and a strong partnership with HSBC, mitigated the impact of COVID-19 on Khimji Ramdas.
Khimji Ramdas, one of the oldest conglomerates in Oman, prioritised cash management and efficient payment collection to safely navigate through the challenges of COVID-19 crisis.
Founded in 1870, diversification has always been one of the key growth factors for Khimji Ramdas. Its activities span across several sectors including fast moving-consumer goods, retail and luxury product distribution to marine construction, travel and logistics. 2020 also marks the 150th year of existence for Khimji Ramdas in Oman.
"We were on top of cash flow management on a daily basis, making sure we have a proper collection mechanism," says Amit Tandon, Group CFO at Khimji Ramdas.
"We were sufficiently stocked at all times to ensure that there were no shortages." he says.
While lockdowns troubled distribution overall, some other parts of its business, especially grocery retail, gained a lot of momentum.
The restaurant industry was severely impacted. However focus on home deliveries of food softened the blow. Similarly, the Travel and Tourism business was also hit, but the advent of chartered repatriation flights saw the businesses mitigating the adverse effects of the pandemic to a large extent
Although its capital expenditure has been sluggish this year due to the pandemic, Khimji Ramdas was still able to make investments related to its marine construction business.
Fostering a new normal
The lockdown prompted the group to look at newer ways to function and maintain optimum productivity levels. The IT support team ensured minimum downtime by getting into digital work modes, video conferencing technologies and enabling better productivity whilst a majority of the employees shifted to working from home.
"We never imagined that working remotely and efficiently will be possible. It could be a new norm for us, which we would like to take forward," says Tandon.

Supporting its community
Eshraqa, is the social development arm of Khimji Ramdas which has been supporting grass-root level community initiatives since its setup in 2016. Based on the founding pillars of Education, Health, Community Well-being and Training, Eshraqa aims to positively impact the lives of Omanis where it matters the most.
In its commitment to stand by the authorities in their fight against the pandemic, Khimji Ramdas provided one of its warehouses to be transformed into a COVID-19 testing facility. Food was also supplied every day, to the healthcare workers at this facility. The group also contributed to the government's requirement for medical equipment and also organised a blood donation campaign among its employees.
Long-term partnership
Signing up as HSBC's first corporate client in Oman, Khimji Ramdas has built an active and strong partnership with the bank to support its diverse business ventures over the last seven decades.
That foresight paid off when the coronavirus pandemic changed the business landscape across the globe.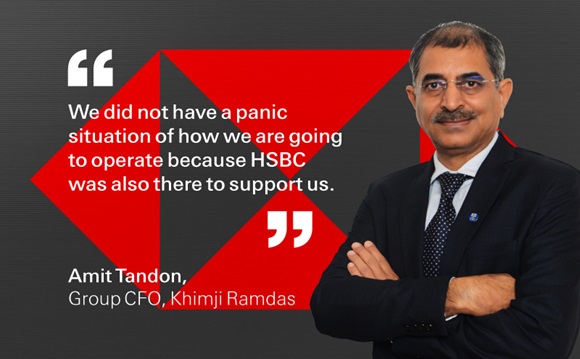 Online banking support
Managing local and international payments and monthly payroll was made easy through HSBCnet. Even though most employees were working remotely, the company was able to carry out all operations smoothly and efficiently during the COVID-19 crisis.
"HSBCnet helped us navigate these difficult times," says Mayur Sanghani, Group Head, Corporate Accounts, Treasury & Credit at Khimji Ramdas.
"We found HSBCnet seamless and its team always available 24/7 to support us, sometimes even at night," he says.
With a robust IT infrastructure and a pool of tech savvy employees across the group, the company is looking forward to working closely with HSBC on new projects that could help improve its business efficiency, such as onboarding to HSBC Connect and Internet Trade Services (ITS) to support its trade transaction needs.
Planning for sustainable growth
The pandemic has seen quite a number of businesses running into serious survival issues due to cash flow problems. A sustainable growth plan is critical for any organisation to tide over crises like these.Khimji Ramdas now plans to focus on expanding those businesses that fared well, keep its portfolio well diversified and invest in newer technologies, people and processes.
"We will continue to make sure that our borrowing and leverage is judicious, keeping the current scenario in mind" says Tandon.
"Revenue is vanity, profit is sanity and cash is the king. That is what we will continue to follow," he concludes.