Innovation & Transformation
Together with Muscat Livestock
With the right banking support, Muscat Livestock was able to adapt and expand in COVID-19 world
Muscat Livestock (MLS), a leading distributor of red meat in Oman, had to shift its strategy to expand into online retail business and target new consumer segments after the COVID-19 pandemic slashed income from aviation and catering activities.
With business heading to register its best ever quarter at the start of 2020, full-year projections were looking bright for MLS, which signed up high-profile clients such as the national carrier Oman Air and international retail chain Carrefour. Then the coronavirus pandemic hit the global economy and corporates required agility to handle the challenge.
"When it hit us, it took us a moment to reorient ourselves. Then we realised that things cannot continue like this and we had to change," says MLS CEO and Founder Naveed Ahmad.
Since its humble start in 2008 with just two employees, MLS expanded into one of Oman's major red meat suppliers with a 57 percent market share of the country's frozen mutton and over 100 employees. It sells over 18000 MT of frozen and fresh food and 60000 animals annually.
Strategy shift to support community
With the country in a lockdown and airplanes grounded, MLS launched a new online store to deliver its red meat products to clients across the capital, targeting not only a new segment of customers, who consume its meat, but also supporting its community.
While MLS had pondered the online shopping idea for two years, it was the COVID-19 crisis which accelerated diversification of its business into a larger retail presence with a bigger focus on the end customer.
"COVID-19 completely shifted our focus from business-to-business (B2B) to business-to-customer (B2C) to reach the end consumer," he says.
And it does not stop in Oman. Using Carrefour and the franchise owner Majid Al Futtaim Holding as a stepping stone, MLS is working on accessing the regional market by the end of the year, planning to offer a range of products it has been marketing online in Oman.

Timely support and digital lifeline
HSBCnet, the bank's digital banking platform, proved to be invaluable for MLS during the months of coronavirus lockdown, ensuring the company's operations were unaffected.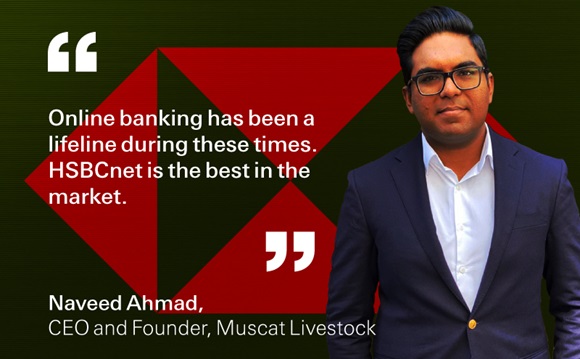 MLS was the first client to use HSBC's receivables finance solution 100% digitally in Oman. "It's great to see so many of our customers embracing digital to embed resilience in their business. It's great partnering with MLS, they put their trust in us, our people and our digital channels at the time it mattered the most," says Simon Adcock, Head of Commercial Banking Oman HSBC.
"It is a great experience banking with HSBC and they have an excellent team and the know-how to get things done," Ahmad says.
Always looking on the bright side, even in the middle of the crisis, was Ahmad's success formula.
"As someone once said, never let a crisis go to waste. Find an opportunity in that crisis to make it work," he concludes.