Innovation & Transformation
Together with Rabeta International
Rabeta switched to HSBCnet online banking to navigate COVID-19 restrictions
Rabeta International, a major distributor of snack food and confectionery products in Oman, had to adapt its logistics set-up to keep supplies flowing and switched to HSBC's online banking to beat the COVID-19 lockdown.
The company focuses on the supply of fast-moving consumer goods to supermarkets and groceries across the country. During the pandemic they had to shift some of its employees to hotels and rely on third-party delivery services to stay operational. "The pandemic changed our priorities. We had to become more flexible and adopt contingency plans to be able to deal with COVID-19 ," says Jaffar Almansoor, CEO of Rabeta International.
The slow clearance of goods and supply affected Rabeta's logistics but despite the challenge, the company witnessed consistent sales during the pandemic as supermarkets remained operational during lockdown.
"Some of our key employees and sales team leaders were out of the country when the lockdown happened, hence it was very difficult to manage without them in the initial stage, but we had to adapt very quickly," Almansoor says.

Support that counts
The pandemic uprooted traditional ways of doing business in the region that previously relied on the use of cheque payments. Rabeta are swiftly changing to HSBCnet for online banking to help maintain cash flow and payment solutions.
"COVID-19 was an eye opener as it made us realize the importance of online operations. We were behind the curve, therefore took the decision to fully migrate to HSBC's digital services," he says.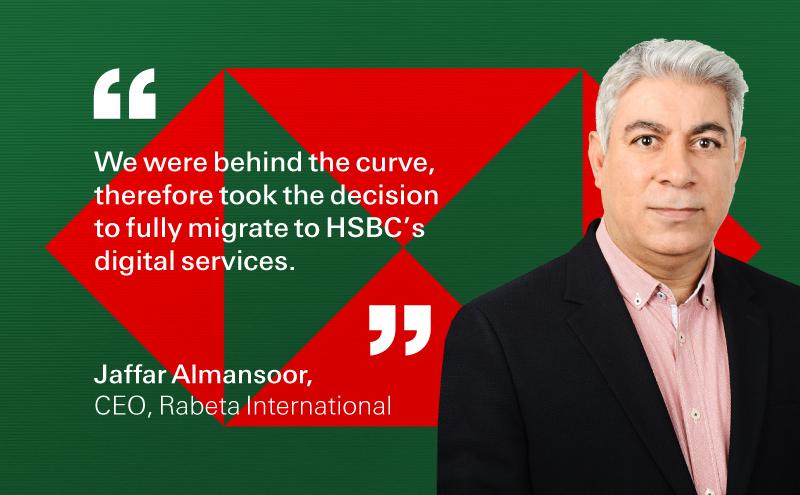 Timely support from HSBC's relationship manager has been crucial during the COVID-19, too. "HSBC has been an important aspect of our business continuity and we could not have survived without the relevant cash flow solutions. Many banks were not readily supportive, as HSBC were in the moment," adds Almansoor. "HSBC's services are more flexible, friendly and less rigid compared to other banks."
Rabeta now plans to spend more resources on increasing its resilience to deal with challenges such as COVID-19. "My advice to other business owners is to look after your contingency plan, it's important to test them even when there is no crisis," Almansoor concludes.