Innovation & Transformation
Together with Safe Care
With the right banking support, Safe Care Medical Industries kept personal protective equipment supplies in hospitals during the COVID-19 pandemic.
Safe Care Medical Industries, the largest distributor of medical consumables for hospitals in the UAE, had to switch its focus to the local production of personal protective products and uproot its traditional ways of doing business to fight the impacts of the coronavirus pandemic.
Facing a slump in sales of its pre-COVID medical products for hospitals and sudden shortages in protective gear supplies from its key partners in China, India and the United States given export restrictions, Safe Care had to overhaul its strategy to keep its operations running.
"The COVID-19 has changed our entire outlook on our business. All the focus across the region changed into personal protective products," says Mohamed Musthafa, General Manager at Safe Care.
Before COVID-19 swept across the globe, Safe Care used to source up to 70 percent of personal protective product supplies from China and up to 15 percent from the United States.
Now, the company, which partners Bin Ali Medical Supplies, had to diversify its supplier base, shifting initially to Turkey, and later to Thailand and Indonesia to battle export restrictions that disrupted its supply chain.
Supply Challenge
Changing suppliers was not an easy task for Safe Care Medical Industries, which traditionally relied on a long-term base of established contacts and payment terms.
"When changing to a new supplier, we faced a big cash flow issue, as everyone wanted advance payments. Our Relationship Manager quickly came to our support, suggesting we utilise the bank's advance payment facilities to relieve the cash flow pressure," Musthafa says.
Having multiple suppliers for a single product, now allows Safe Care Medical Industries to benefit from more favourable prices and better availability, placing it on a more solid footing to face the unexpected with the pandemic far from over.
When the COVID-19 infected 15 staff members at its major warehouse in Abu Dhabi and put them in over a month-long quarantine, the company kept supplies to hospitals flowing from its other warehouses in Al Ain and Dubai.
"At any cost, we made sure that the supply chain did not stop," Musthafa says.

Financing & Online Support
Overhauling its payment system, the company also greatly expanded its HSBCnet online banking use, switching from widely used cheques to reduce infection risks.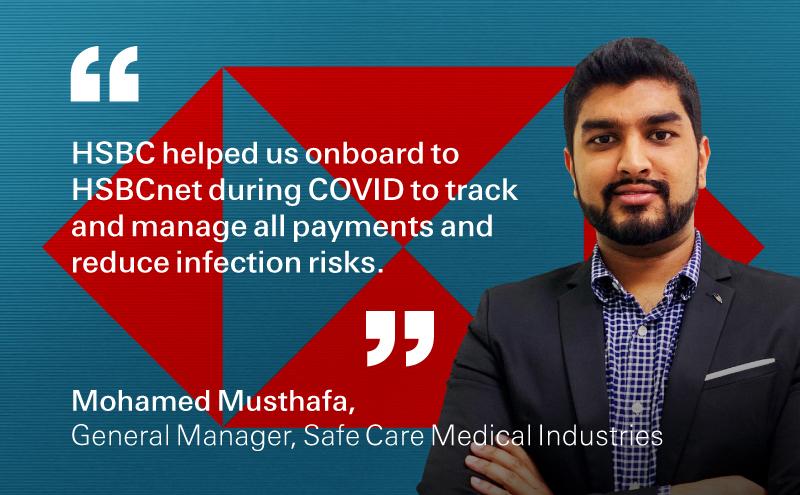 To support the community, the company also began to manufacture personal protective products, such as face masks and gloves, in its new UAE facility. It is now building a new line to further expand its production in the country.
HSBC also provided loan support to Safe Care to complete its UAE factory to support community during COVID-19.
The bank's funding for a fully automated warehouse was also instrumental in keeping medical supplies running during the pandemic.
"The main reason we did not have a big issue when our warehouse was down was that it is completely automated," Musthafa adds.
A Future In E-commerce
Cooperating with a group of doctors, Safe Care also developed its own e-commerce platform, where patients will be able to directly buy medical consumables, branching beyond its traditional institutional customer.
The company aims to launch its online platform in the next few months, once supply to hospitals stabilises.